Irish Shamrock License Plate
---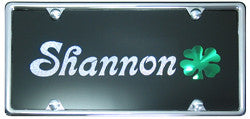 Add charm and luck to your vehicle.
For Irish Gifts for your car, try our Irish shamrock license plates. They are custom made from 1/8" thick acrylic mirror. Your name is made from a special effect holographic vinyl that changes colors when viewed from different angles. The Irish shamrock is made from a special effect 3D vinyl in your choice of colors. When seeing the design, most customers ask if there is a light inside the design. The shamrock takes ambient light and reflects it like a convex mirror giving it a 3D look and the illusion of light within. The plate is complete with a metal frame, bolts and a clear protective lens.
Includes Irish shamrock in green or silver
Name is Multicolor Holographic Sparkling Silver Vinyl
Makes a great Irish Gift!
Size:  12 1/4 "  x  6 1/4 "
Related Products
---