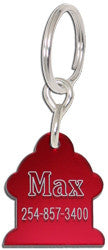 Is your dog a firefighter?
Well he sure knows where the fire hydrants are in your 'hood' when you take him for a walk! Now your pet can have his very own Fire Hydrant Pet Tag.
These essential pet id tags are made from beautiful acrylic mirror. Available in popular red and many other colors.
Your fire hydrant pet tag is easy to slip on your pet's collar.
Size:  1  1/8 "  x  1  3/8 "
Related Products
---