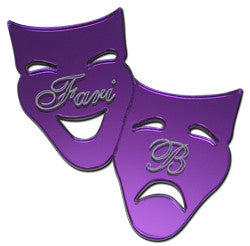 Is drama attracted to your life?
Now you can put the drama where you want it with our Drama Masks Magnet!
Perfect for the refrigerator or locker.
Designed from dramatic acrylic mirror to reflect your passion for theater. They are 1/8" thick in the color mirror of your choice. Your name is Engraved FREE!
Size:  2  7/8 "  x  2  5/8 "
Related Products
---