Custom License Plate with 2 Names
---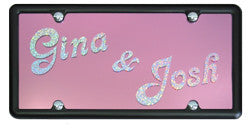 Because two roll better than one...
Our custom license plates with 2 names are designed from 1/8" thick acrylic mirror. Your names are made from a special effect holographic vinyl that changes colors when viewed from different angles. The & symbol will be in between the names. The plate is complete with a metal frame, bolts and a clear protective lens.
Names are Multicolor Holographic Sparkling Silver Vinyl
Size: 12  1/4 "  x  6  1/4 "
Related Products
---