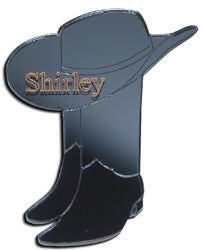 Western Cowboy Hat and Boots Lapel Pin Engraved Free.
Now you can have the shiniest boots in town with our mirror lapel pin.
Express your western style with 9 beautiful acrylic mirror colors to choose from.
Get FREE engraving in your choice of styles and colors.
Size: 2   3/8" x 3"
Related Products
---