Claddagh Shamrock Leash Holder
---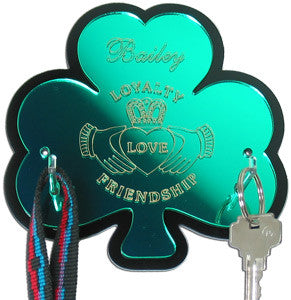 Where did I put that leash?
With our Claddagh Shamrock Leash Holder you won't have to search for your dog's leash any longer - and your dog will love it too. It's made from beautiful emerald green acrylic mirror. The Claddagh and your pet's name are elegantly engraved in gold. This leash holder makes it easy for the two of you. The durable hooks for your leash and keys are always handy when your pet has the urge.
The Irish Claddagh (pronounced 'clah-dah') is the symbol of loyalty, love, and friendship. The name comes from the Irish costal village of Claddagh, where a local legend has become one of the most popular romantic tales of Ireland. The famous story tells the tale of a townsman kidnapped and sold into slavery to a goldsmith. When the townsman was later released by demand of King William III in 1689, he was given a choice. The goldsmith offered him half his wealth and the marriage of his only daughter if he would stay. The townsman declined and returned home to his true love. He created a ring for her bearing this design. The crown represents loyalty, the heart - love, and the hands - friendship. This symbol is given as a traditional Irish gift of loyalty and friendship as well as romantic love.
And who gives you unconditional love, loyalty, and friendship?Of course: your beloved pets! They will stand by you and love you forever!
FREE Engraving on all Claddagh Shamrock Leash Holders
Size:  5  7/8 "  x  5  7/8 "
Related Products
---