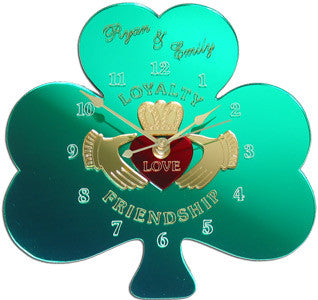 See what we discovered at the end of the rainbow!
For a creative Irish gift, try our Claddagh Shamrock Clock. You'll see it's made from beautiful emerald green, gold, and red acrylic mirror. Useful as a mirror and time keeper with a precision quartz movement. The clasped hands and crowned heart are raised with polished edges and intricately engraved. The red heart in the center adds just the right amount of color to this well balanced personalized Irish gift. Your names and the words that reflect the meaning of your love are elegantly engraved in gold and the numerals in white. You can have your wedding date engraved as well on the stem of the shamrock.
As a Best Friends Gift, we can engrave just your friend's name straight across the top leaf of the shamrock. The Claddagh Shamrock Clock makes a timeless gift of your true friendship.
Now with FREE Engraving!
The Irish Claddagh (pronounced 'clah-dah') is the symbol of loyalty, love, and friendship. The name comes from the Irish costal village of Claddagh, where a local legend has become one of the most popular romantic tales of Ireland. The famous story tells the tale of a townsman kidnapped and sold into slavery to a goldsmith. When the townsman was later released by demand of King William III in 1689, he was given a choice. The goldsmith offered him half his wealth and the marriage of his only daughter if he would stay. The townsman declined and returned home to his true love. He created a ring for her bearing the design of clasped hands holding a crowned heart. The crown represents loyalty, the heart - love, and the hands - friendship. This symbol is given as a traditional Irish gift of loyalty and friendship as well as romantic love.
Related Products
---