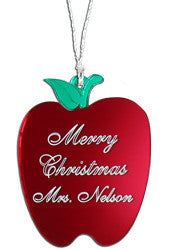 Classic teacher gifts just got cooler...
Get Free Engraving on these memorable teacher gifts!
Apple Christmas Ornaments are made from acrylic mirror in several beautiful colors.The back side has a silver mirror to reflect the Christmas tree lights and the special memories of the school year.
You get three lines engraved free on the front. We can engrave Merry Christmas and your teacher's name or your own special message.
On the back side, you can add extra engraving like the year.
Related Products
---