Anniversary Heart Wall Mirror
---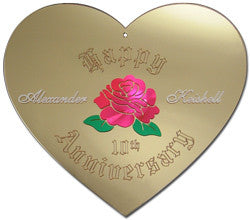 Celebrate this anniversary with a new way to reflect upon the memories.
Celebrate your love-anniversary with our engraved memento just for the two of you. The Anniversary Heart Mirror is designed from 1/8" thick acrylic mirror. The rose is made from a special effect 3D vinyl in your choice of colors. When seeing the rose, most customers ask if there is a light inside the design. The rose takes ambient light and reflects it like a convex mirror giving it a 3D look and the illusion of light within. Your names and the anniversary are elegantly engraved on each side of the rose.
Includes Rose in your choice of colors.
Happy Anniversary is engraved in gold old english.
Names are engraved in white script.
Related Products
---