Anniversary Double Heart Wall Mirror
---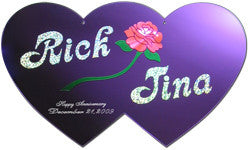 Romantic anniversary gifts to remember.
Anniversary double heart wall mirrors are designed from 1/8" thick acrylic mirror. The names are made from a special effect holographic vinyl that changes colors when viewed from different angles. The rose is made from a special effect 3D vinyl in your choice of colors. When seeing the rose, most customers ask if there is a light inside the design. The rose takes ambient light and reflects it like a convex mirror giving it a 3D look and the illusion of light within.
Now with free engraving, your anniversary date and anniversary message like: Happy Anniversary, Always & Forever, True Love, or Together Forever, will be engraved in the lower left corner.
Anniversary date and special message are engraved in white script.
Names are made from Multicolor Holographic Sparkling Silver Vinyl.
Size:  13  1/4 "  x  7  7/8 "
Related Products
---