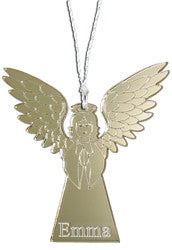 Grace your Christmas tree with a wing and a prayer...
With her hands folded honoring the Spirit of the holidays, this beautiful Angel Christmas Ornament will enhance the look of your tree in several ways.
Made from acrylic mirror, the angel ornament will catch the light like no other.
With free engraving, you can have your little one's name engraved in your choice of style and color.
The front comes in many shades of mirror color and the back is a silver (clear) mirror.
The kids will love hanging up ornaments personalized with their names. So make decorating the tree fun again with the Angel Ornament.
Related Products
---